Missions and Programs

As a church community, we are called to care for others locally, nationally and globally.
First Church is known as a caring community of faith that looks out for the needs of its members and other individuals and families of the local community. The Pastor and Deacons carry out a regular ministry of pastoral care and a number of individuals participate in a prayer ministry through our Prayer Circle.
First Church maintains strong support of our church's wider mission through the Massachusetts Conference of the United Church of Christ (MACUCC), the Council of Churches of Greater Springfield and a number of other mission programs.
Click here for an explanation of one way we support MACUCC.
A
sampling of our ministries...


Support for all in need


Our Hummingbird Thrift Shop offers gently used clothing and household items. Hours of operation are Tuesdays 6pm to 8pm, Fridays 10am to noon, and Sundays after church.
Support for Ludlow Families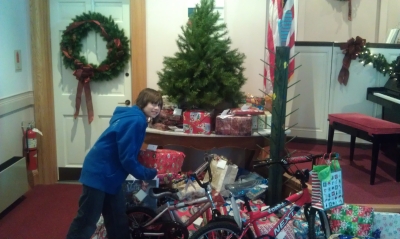 Evan Grimes of First Church in Ludlow places a gift under the "Giving Tree" located in the Church's sanctuary. First Church members gave gifts to make for a Merry Christmas for 18 children from 8 Ludlow families who otherwise would have very little for Christmas. Along with presents for the youngsters, Big Y cards and bags of groceries were gifted to each family.
Support for the Community Survival Center in Indian Orchard

The Center is in desperate need of the following foodstuffs:
canned meats, tuna, peanut butter, baked beans, breakfast cereal, hearty stews and soups, rice, pasta, canned fruits and vegetables, powered milk, shelf stable (Parmalat) milk.

Please bring whichever items you can to the church and they will be taken to the Center.
The "Potato Project"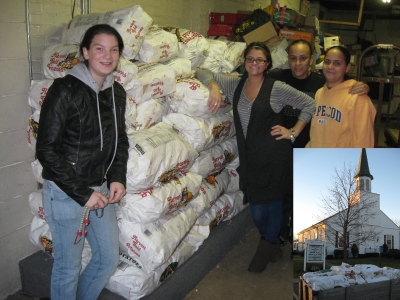 Friends and members of First Church in Ludlow raised funds to purchase, deliver, and donate 2,700 lbs of potatoes to the Survival Center in Indian Orchard in November 2010. And we're doing it again this year! Each 50 lb bag of potatoes costs $10.00 and will be donated to the Survival Center. Please make checks out to First Church in Ludlow with a notation in the memo portion, "potatoes".

Soup Kitchen Ministry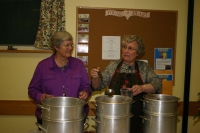 F

riends and members of First Church in Ludlow shared in "Soup Sunday," sponsored by the Missions and Social Action Committee on October 23, 2011. Homemade soups and an assortment of homemade breads were served following church, and for those who were unable to stay, there was soup to go. "Soup Sunday" is held for the purpose of raising funds for community outreach.
Backpack Project
We donated backpacks and school supplies to the Chapin Street, East Street and Vet's Park schools for children whose families are struggling in these economically challenging times.
Prayer Shawl Ministry
Habitat for Humanity
Welcome Workers